Main Line Snoring Solutions, we offer CPAP alternatives. What is CPAP?
As you learn more about the sleep apnea treatment provided at Main Line Snoring Solutions in the Philadelphia area, you may be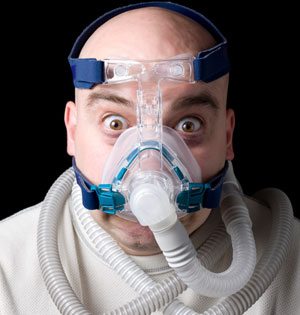 wondering what we mean when we mention the CPAP. We provide CPAP alternatives for those who have been unable to tolerate CPAP or are not interested in this method of care.
The Continuous Positive Airway Pressure, or CPAP, is a mask worn while you sleep. Thanks to a tube that connects the mask to a machine, the CPAP applies air pressure to help the airway remain open. This keeps breathing unobstructed, prevents snoring, provides a better night's sleep, and, perhaps most importantly, helps prevent the health problems experienced by many who suffer with obstructive sleep apnea.
While CPAP can be extremely successful at treating sleep apnea, there is a need for alternative methods. Why? Some patients find that they simply cannot stand wearing the mask during sleep and end up sticking the machine ends in the closet. It may work well, but it doesn't do anything for you if you don't wear it. However, no one wants to be so uncomfortable during sleep that they can't relax. For those who have tried the CPAP and find it lacking, we offer intraoral sleep apnea treatment appliances as another option.
Also, the CPAP mask requires that the wearer sleep on his or her back, and some find this problematic. The mask can additionally cause irritation, and the machinery can make noise that some find annoying.
Sleep apnea is a very serious health complication, contributing to heart disease, stroke, and even premature death. We will gladly discuss your sleep apnea treatment options and CPAP alternatives with you during a consultation appointment at Main Line Snoring Solutions. Contact us at (610) 527-6704 to schedule a visit to our Main Line dental office in the Philadelphia area. For patients from Bryn Mawr, Ardmore, Haverford, Villanova, St. Davids, Delaware, and New Jersey, we have earned a reputation as one of the top dentists on the Main Line – in fact, we've been voted top general dentist by Main Line Today for six years in a row.